Good News For Captcha Workers: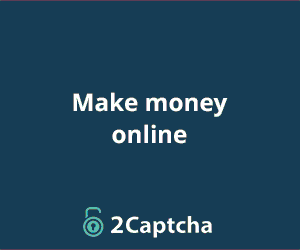 Hey Guys & Gals...Welcome To Weblyceum Club.
CAPTCHA Solving Is One Of The Easiest And Most Reliable Ways To Earn Money Online. All You Need Is Your Computer And The Keyboard.
There Are Many Captcha Sites Which Provide Captcha Work To Their Workers Worldwide As I Explain In The Previous Posts. Now, Today I Am Going To Tell All Captcha Workers From World Wide That New Captcha Site 2Captcha.com Is Now Launched. Registration Is Open Now And You Can Register Your Captcha Account Direct From Site 2Captcha.com.

You Can Work And Get Captcha's Very Fast, Easy, Short And Readable.
You Can Register Your 2Captcha Account For Free By Clicking The Register Now Button...
How 2Captcha Works:
Sign In Online And Start Earning Money
• Register To Create Your Account.
• Hit The "Start Work" Button.
• Now You Are In Queue To See And Solve Your Captchas
The Captchas Are Provided To You Instantly. On The Low Hours, The Interval Between Two Captchas Is No More Than 10 Seconds.

About 2Captcha:
2Capthca.Com Is A Human-Powered Image Recognition And CAPTCHA Solving Service. This Is The Hub For Both Those Who Need The Images Recognized In Real Time And Those Who Are Ready To Take This Job.
Special Feature:
100% Image Recognition Accuracy. It Provide The 100% Accuracy For Complicated Images As An Additional Feature Powered By Its Special Algorithm:
1. The Image Is Recognized By Several Users.
2. The Robot Compares The Answers
3. The Answers That Match Are Recognized As True.
Work Online
• You Always Have Tasks To Solve. Every The Service Gets More Than 1.000.000 Captchas To Solve.
• Quick Earnings Withdrawal. Automated Payments.
• Minimal Withdrawal Starts From 1 USD
• We Charge No Commission On Your Earnings.
• Referral Program: 10% From Your Referrals.
Recognize Image:
• Low Pricing: Starts Form 0.5 USD For 1000 Captchas Solved
• Short Recognition Time
• Live Support Answers Within 30 Min (On Week Days)
• We Charge No Commission On Your Payments.
• Referral Program: Earn 10% From Your Referrals.